All Made in Group members who have been a featured speaker at a Virtual Breakfast Morning have now been awarded the "Knowledge" badge on their microsite - celebrating their contribution in sharing best practice and exclusive industry insight amongst UK manufacturing and engineering.
Made in Group's landmark Virtual Breakfast Mornings are a networking and best practice sharing format - first birthed in 2020 - which allows for industry leaders to build relationships and discuss important topics within UK manufacturing and engineering.
Comprised of Made in the Midlands and Made in Yorkshire, Made in Group is a membership group of 500+ manufacturing & engineering companies.
The Virtual Breakfast Morning format traiditionally begins with an update from Made in Group, a 5-minute section which allows members to submit opportunities to the network. Following this, 3 speakers selected for that week are given a 5-10 minute talk to discuss an inspiring story. The second part of the event sees attendees enter into smaller discussion groups, regarding a chosen theme.These Made in Group discussion groups are loosely be based on themes that correlate to our primary campaigns and issues; people & skills, intelligent factories, sustainability & energy and international trade.
All members who have been a speaker at Virtual Breakfast Mornings have now been awared with the brand "Knowledge Badge". As well as being unlocked on their company microsite, these badges can be used on the likes of email signatures and marketing material by the company.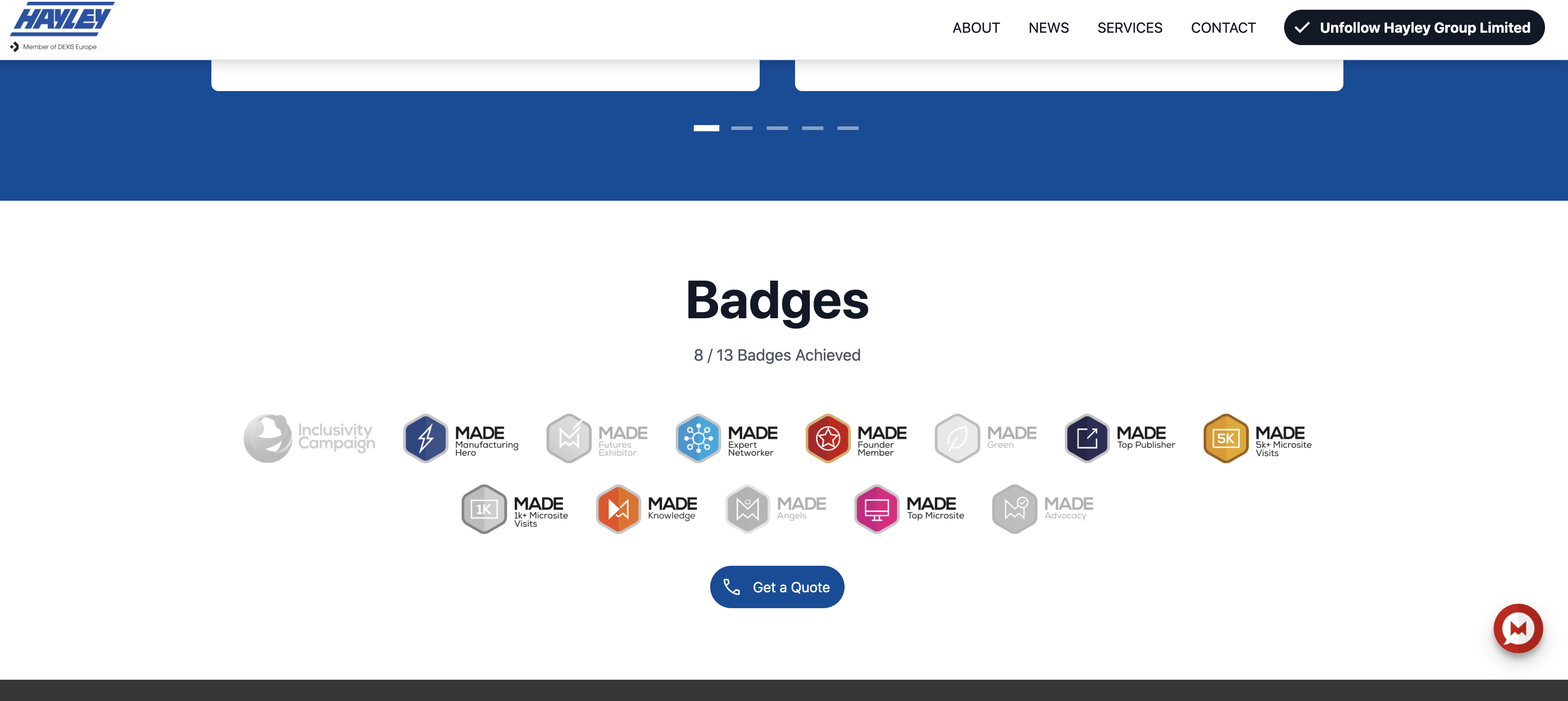 Made Badges are awared to members of Made in the Midlands and Made in Yorkshire to symbolise to the community how active they are, allowing the best of the best companies to stand out. Including this new "Knowledge" badge, there are now 13 badges in total for members to unlock on their microsite.
Other activities that are rewarded with badges include the likes of receiving 5,000+ views on a microsite, posting over 6 articles to the Made in Group news platform, attending over 6 events within the community, and much more. You can find out how to unlock badges by hovering over each badge within a microsite.
As a Made in Group member, you can enquire about speaking at one of these Virtual Breakfast Morning events - and unlocking the Knowledge badge - by speaking to a member of the team. Browse upcoming Virtual Breakfast Morning events by clicking the button below.